Shopping Cart
Your Cart is Empty
There was an error with PayPal
Click here to try again
Thank you for your business!
You should be receiving an order confirmation from Paypal shortly.
Exit Shopping Cart
A little nice and a lot of naughty
The Sensual World of Stephani Hecht
I only have a few moments, but I wanted to give you all an update and let you know about some future releases. The biggest and most exciting news is that my sister and I co-authored a book! I am so happy and pleased to be sharing this experience with her. Not only is she my best friend, but she is my strongest supporters.


So, this is what I have in the works.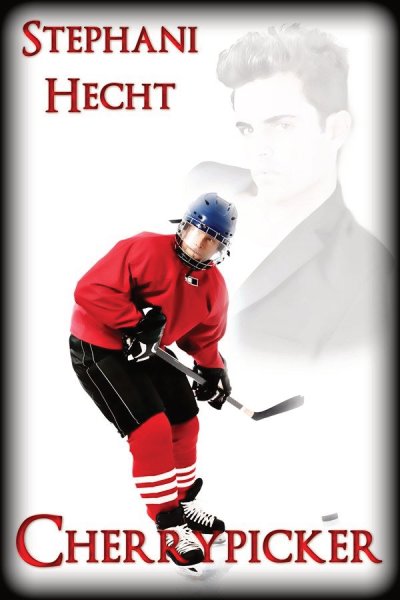 July 1st-Cherrypicker-Blue Line Hockey Series

Sometimes it doesn't matter how fast you skate, pain will still find a way to get you.
Derry Cronwell has only wanted two things in life, to be able to play professional hockey and the freedom to make his own choices in life. When he finally manages to land a spot on the Hawks' farm team, he hopes to finally have both of his dreams come true. There are only a couple of problems. First, Derry's brother, Pat is the captain of the Cougars—the Hawks' biggest rivals—Second, Derry is terrified that his deepest secret will finally get out—that he's gay and has a massive crush on Hawk's defensive man, Fallon.
Fallon and the Cougars have a grudge that goes back for years, so the last thing he wants is one of their bratty little brothers on his team. But as he gets to know Derry, Fallon finds himself drawn to the timid offense man. Then Fallon finds out just how bad Derry's private life is, and he knows he will do anything to help the other man. Will Fallon be able to rescue Derry from all his demons?
When Reed first hears about the new reality series that will be featured on the biggest LGBTQ network, he knows it will the answer to all his problems. Not only does it seem tailored made for his survivalist skills, but the prize money will help him finally open the business of his dreams. But, dreams and reality are often very differed, a fact when he finds out that his partner will be non-other than Baxter, the only man who Reed ever loved. Reed also was the only one who broke Reed's heart.


As the pair race other teams across the country, they face many adventures and obstacles. The biggest challenge will be whether or not they can stop fighting long enough to reach the finish line. Will they fail, just like before, or will they end  up winning much more that a measly check?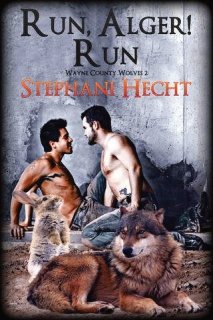 July 15th-Run, Alger! Run-Book Two of the Wayne County Wolves Series
Yes! That's a rabbit that you see on the cover. But, really can you think of a better mate for somebody as dark, dangerous and handsome as Nico? And not just any Rabbit shifter, either, this one is being hunted down by the rest of the shifter society and it's up to Nico to keep Alger safe. All the while, avoiding to temptation to eat him--in more ways than one.

I am finally getting caught up from RT. While it was a blast I need to get back to work and focus on the rest of the year. I have a lot of projects coming up and I can't wait to share them with you. One of them has me so excited that I can't stop jumping up and down.
The first announcement is a good news/bad news kind of thing. The next Haven Coffee Shop book won't be out until May 15th. The reason behind the delay is I had to shift my release schedule around to make room for my new M/M series. It will be called the Wayne County Wolves and is a spin-off from the Lost Shifter books that will focus on Chris's pack. The first book will come out on the 15th and will be titled, Ervin's Dilemma.

I have also set a tentative release schedule for the upcoming months:

May 1-Little Brat LostMay 15-Left In The Darkness-Haven Coffee House
May 15- Ervin's Dilemma-Wayne County Wolves
June 1-Bagged and Tagged-EMS-Heat
June 15-North's Complication (Lost Shifter)
July 1-Untitled-Blue Line Hockey
July 15-Untitled-Haven Coffee House
July 15-Untitled-Wayne County Wolves


Also, don't forget to check out my latest release Colby and the Little Wolf. Until next time, by-eeeeeee

Sorry I have been remiss in posting and responding to comments. I am also way behind on emails. I promise I love you all and will get back to you soon. It's just been a hella couple of weeks. I do want to thank everybody who came forward on FB and stood up for me when I had a family member attack both me and Cody. I guess sometimes bigotry is thicker than blood. I'll admit that was a bitter pill for me to choke on, but thanks to all of you I was able to get through it.
So, let me get to the good stuff! I had a new release and I'm just now getting around to posting about it. It's the next book in the Blue Line Hockey Series and it's available now
 at eXtasy Books!
Sometimes love really can conquer all
Blurb:
While growing up, Zimon always lived in his older brother's shadow. While his sibling went on to join the military and came back a war hero, things grew even worse as Zimon's life spiraled out of control, and he found himself in a dark place where he came close to losing his life.


When Zimon's brother fell in love, all the rules changed in their once nice, neat life, and Zimon finds himself in the role of supporting his brother in his newest dream, opening and running the biggest hockey rink in the metro Detroit area. While Zimon had never envisioned his future being the manager at the front service desk of a rink, it beats working as a shot-boy at the gay club, so he jumps at the chance for the new job. Bryce never imagined that, while at the height of his NHL career, he'd find himself becoming part owner of a rundown hockey rink. Yet that's exactly what happens when a group of his friends get it in their crazy heads to start the new business. One day when he's in town, he decides to check the place out. When he clashes with the bratty, yet cute, man running the front desk, Bryce is both annoyed and intrigued.


Will Zimon and Bryce ever be able to get over their differences? Or will the final buzzer sound before they find a way to happiness?   
Excerpt:


Damn it! The last thing Bryce had ever expected to find when he came to visit his old friend, Aldrich,  was the most annoying, fuckable brat in the world instead.


There was no denying it, though, because there stood said brat on the other side of the counter wearing a face that was so annoying that it was cute. Deciding to see just how angry he could make Zimon, Bryce upped the ante a bit.


"Really? From what I heard, you sleep with just about anybody."


Zimon hissed at him…actually hissed. Like some sort of cat who had its hackles up. "I made a personal vow to never screw jerks, so that leaves you high and dry. Besides, since when have you been gay? All the papers show pictures of you and your girlfriend."


It was true that Bryce had made sure that there were plenty of pictures of him and Jennifer out there. What most people didn't know was that Jennifer was his best friend and nothing more. She went out and played the role as his girlfriend as a favor to him. While the Cantons and some of their friends may have no problem being out and proud, Bryce didn't know if he'd ever be able to take that big of a risk. He had a lot of endorsement deals and he knew without a doubt they'd dry up if it were to come to light that he was gay.


"Maybe I just want to have some fun," Bryce suggested.


Zimon rolled his adorable soft-blue eyes. "God, I hate it when the closet cases come on to me. I have one rule in life…"


"Just one?"


"I never do guys who still claim to be into girls."


"Why is that?"


"It causes too much drama."


"Funny, you strike me as the type who loves to swim neck-deep in drama."


Zimon shot him a look that was probably meant to be menacing, but only came off like a puppy growling to warn somebody away from its bone. "Do you need anything? I was about to close up, and since I do have to open up early, I would like to get home, so I can at least get a few hours of sleep."


"I just want to take a quick look around the place."


"Now?"


"Sure, why not? After all, I did dump a ton of money into this rink, so, it's only right I get to see my investment."


Before Zimon could issue any further protests, Bryce walked around and opened the door, so he could get behind the counter.


"What are you doing?" Zimon demanded, throwing his hands up in exasperation.


"I already told you that…taking a look around."


Bryce began to move some of the paperwork around. When he heard Zimon let out a sputter and turned to see him wringing his hands, Bryce knew he'd finally found one of the punk's weak spots. Oh, oh. It looked like the office manager had a titch of OCD in him.


Purposefully messing the papers up more, Bryce asked, "Are you the only one who works back here?"


Zimon reached around him and began a feeble attempt at restoring order. "Yes, why?"


"Because, it looks like hell. How can anybody figure out what's going on?"


Anger flashed through Zimon's eyes. "I'll have you know that everything is perfectly organized. Or at least it was until you went all caveman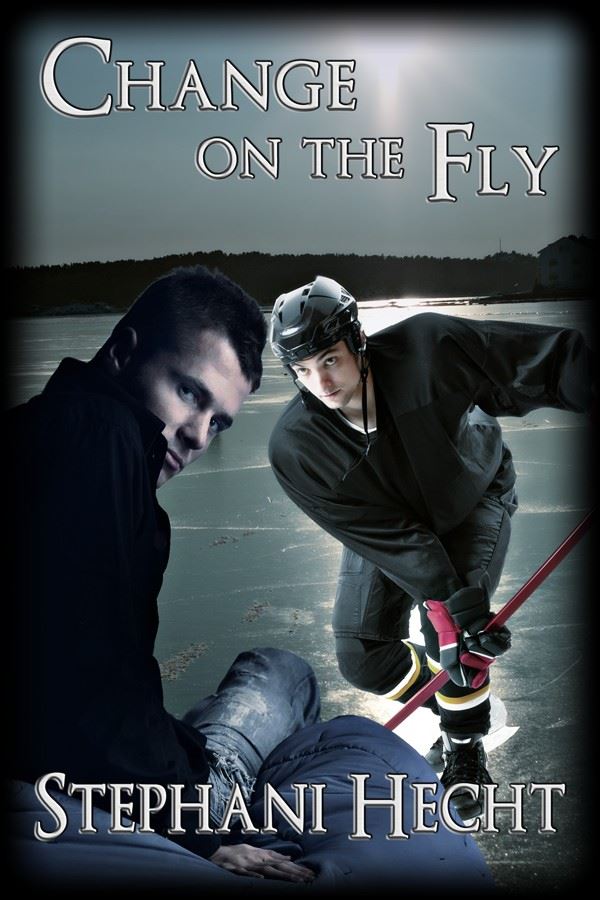 Available now at eXtasy Books!
From a very young age, Aldrich knew two things—he'd grow up to play professional hockey and he'd make his mentor fall in love with him. After years of hard work, both are within his grasp. Not only has a professional team called him up from his farm club, but the man he's dreamed of for years has finally noticed him. 
Then everything is brutally torn from him when he suffers a career-ending injury and finds himself dumped before the relationship has even really started. Depressed, he retreats to his childhood home where he runs into his former best friend and hockey buddy, Nobel. They rekindle their friendship and grow closer…in more ways than one. Aldrich is shocked to realize that not only has he been overlooking what could be the best thing in his life, but love may have always been right in his own backyard.


Excerpt:


He ran his fingers over some of the scars left behind by the various procedures they'd performed to save his life. While he knew it'd been a necessary evil in order to relieve the pressure in his skull when his brain swelled, it still made him bitter.


"You look beautiful," Nobel declared as he walked into the bathroom.


Aldrich jumped, shocked at the man's appearance. "I didn't hear you come in."


Nobel stepped closer, his hands going up to caress Aldrich's scalp. "I've always loved your hair."


A shiver went through Aldrich as Nobel's fingers ghosted over his head. "You have?"


"Yes, I've also always wondered what it would be like to touch it like I am now."


"Was it everything you thought it would be?" Aldrich asked before biting back a moan. Who knew a simple touch could feel so good?


"No, it's much better than I ever dreamed."


"You're just saying that to make me feel better. I know how horrible it looks right now."


"You'll always be perfect to me."


Wow, it didn't get any better than that. Aldrich tipped his head back so he could meet Nobel's gaze. "I can't believe I didn't realize sooner."


"Realize what?"


"That you were right in front of me, waiting for me to get my head out of my ass."


Nobel trailed his fingers down the side of Aldrich's cheek, his fingers leaving behind a heated path. "I just kept hoping that one day you'd eventually wake up and see that I was waiting for you to notice me."


"In my defense, I wasn't a total idiot. You just told me you were gay, so how could I know that you were attracted to me?"


"If you would have bothered to look you would have noted how I was constantly checking out your ass."


"Hmm… so that's why you always insisted on walking behind me." Aldrich became brave and wrapped his arms around Nobel's waist.


When Nobel didn't pull back, but instead put his own arms around Aldrich's shoulder, a heady thrill went through Aldrich. Emboldened, he moved in closer, until their bodies were pressed together. When he felt the hard press of Nobel's cock against him, Aldrich grinned.


"Is that for me?" he asked.


Since Nobel was a few inches taller Aldrich had to tilt his head up some to keep eye contact. It made his neck crick a bit, but he didn't mind if it meant being able to stare into Nobel's dark gaze.


Nobel ran one hand down Aldrich's back. "You know it is."


Aldrich rocked forward, making sure Nobel could feel that he was hard as well. "That's okay, you're not the only one who is feeling…excited."


A tremble went through Aldrich's body as his arousal rose a couple notches. He tilted his head a bit farther back, praying to all that was holy and unholy that Nobel got the message.
 




Blurb
All his life Jochen has had one dream and one dream only—to become a professional hockey player. Now after years of hard work, he's close to his goal. Well…maybe a better term would be
almost there
since he's playing for a minor league team and is barely making a livable wage. Still, he's not complaining since he feels like it will only be a matter of time before he's called up to the NHL. He just needs to make sure that he doesn't allow any distractions to get into his way.
Then a huge distraction plows into his life when Jochen volunteers to help at a summer youth clinic. There he meets Rebel, a very sexy, cute and tempting goalie. The problem is both of them are deep in the closet. They both fear that coming out could hurt their careers. Besides, all they're doing is having a little fun on the side and they don't feel like it's anybody's business. Then just as they least expect it, their secret comes out in the most explosive way possible, forcing Jochen to admit just how much Rebel means to him. Will their love be able to survive the fallout, or will they lose everything they ever wanted?
Excerpt
"Have they ever hurt you?"
Rebel shrugged. "Just some of your everyday locker room hazing. No biggie."
Going by the tense way Rebel held himself, it actually was a really big deal. A wave of protectiveness rushed over Jochen and he felt the sudden urge to punch out the entire Cougar roster. Minus Rebel, of course.
"There's a difference between harassment and some fun ribbing," Jochen pointed out.
Rebel let out a sigh. "It's not that bad. Certainly not anything even close to what they used to do to Sergei."
"What they did to him was criminal, so I would hardly consider that the bar you should use for comparison."
For a second he thought Rebel would argue that one, in the end the goalie set down his drink and rocked on his feet for a few moments before continuing on in a calm tone.
"I knew before I even went there it would be hard. I'm small, blond and shy. All of the things guys like that hate. My own brothers used to tease me about the way I am."
"Let me guess, you were the youngest?"
"Yeah, I have three older brothers. While they're usually pretty overprotective of me, at times they could be jerks, too."
"But nothing like the Cougars." It came out as a statement rather than a question, because Jochen felt pretty certain that Rebel's brothers could never be that cruel. Or at least he hoped not. He couldn't imagine having to grow up in an environment that hostile.
"No, my brothers could never be like that. In fact, if they knew how the Cougars were treating me, they'd…" Rebel bit his bottom lip and gave a slight shake of his head.
"They'd be pissed and want to do something about it?" Jochen finished for him.
Rebel didn't reply. He just averted his gaze as he continued to gnaw on his bottom lip. He worked the piece of flesh so hard, Jochen worried he'd make the thing bleed. Even though he knew it wasn't the wisest thing to do, Jochen reached out and gently used his thumb to nudge Rebel's chin down.
It worked. Rebel parted his mouth, his lower lip springing free. Jochen's breath caught as he found himself mesmerized by the temptation so close to him. All he'd have to do is lower his head a few inches and he could find out if Rebel tasted as good as he looked.
The craziest part of the whole thing was that Rebel didn't appear to have any intentions of pulling back. If anything, he seemed to be swaying in a bit. As if he wanted the contact just as badly as Jochen did.
"Yeah, they wouldn't want me to go through all that," Rebel whispered.
Jochen frowned in confusion. The past few moments of lust having made his brain mush. 
"Huh?"
 "My brothers. They wouldn't want me miserable."
It wasn't lost on Jochen that he hadn't moved his fingers. They were still cupping Rebel's chin. It felt damn good, too. The heat of the man's flesh called to Jochen, almost as if begging for him to slowly explore every decadent inch of Rebel's body.
The one sane brain cell left in his head screamed at Jochen to pull away, that this was no way to guard his secret and that if he didn't knock it off, Rebel would probably get pissed. Hell, the guy could strike out at any moment.
Yet, Rebel did none of those things. No, he did the last thing Jochen was prepared for. With a soft groan, Rebel ran his tongue over his lips. As if he was preparing them for some really good action.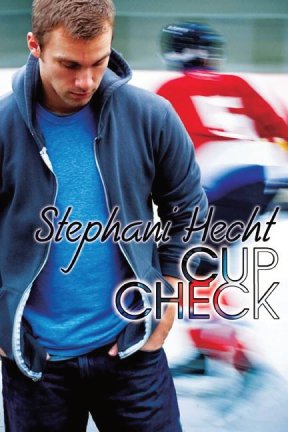 Cup Check-Book Three of the Blue Line Hockey Series
After years of hard work and sacrifice, Kip Cooper's dream of playing for the NHL is finally within reach. Soon he'll be able to leave behind his farm team to taste fame, fortune and the respect that comes with being number one. So he's not about to allow anyone or anything get in the way. But try telling that to his libido, because despite everything, he can't keep his mind off his teammate, Sergei. Too bad  Sergei is young and openly gay… and Kip isn't. When a chance encounter leads to a night of passion, Kip realizes he has to make a choice: Sergei or his dreams.
Excerpt
They got off the bus and went with the rest of the team to gather their bags while the team manager went inside to grab the room keys. Devon came over to stand by Sergei and Trey. Whereas Trey had blond hair and an easy smile, Devon tended to be more serious and had dark hair.
"I don't know what kind of game you two are playing, but it pissed Kip off something awful," Devon said.
Sergei almost snorted in derision until he remembered Trey's words. Maybe he really should give Kip a break and stop pressuring him so much to go public. After all, who was he to judge how others handled their lives when his own family's relationship was the definition of dysfunctional?
"Who are you going to room with?" Devon asked Sergei.
"Oh, shoot! I forgot, now that Chad's gone, I'm going to have to look for a new roommate," Sergei exclaimed.
"No, you don't. You're rooming with me," Kip announced as he came up and waved a key.
He didn't look any less angry than he had during the bus ride. Just a week ago, Sergei would have jumped at the chance to be able to sleep in the same room as Kip. Now he didn't feel so sure. He nervously gnawed on his bottom lip. "I am?"
"You are," Kip replied in a firm tone that warned against argument.
"What will Mike do? Don't you guys usually bunk together?"
"Not anymore. Now come on."
When Sergei just stood there in stunned disbelief, Kip let out an irritated sound and grabbed Sergei by the front of the shirt. He then proceeded to pull Sergei through the doors leading into the hotel.
Sergei let out a surprised yelp as he struggled to keep up while still managing to hold onto his heavy hockey bag. The entire time, Kip didn't glance back once, not even when Sergei stumbled a couple of times. Sergei had the distinct feeling that if he did fall, Kip would just drag him facedown the rest of the way to their room.
"I can walk on my own," Sergei protested.
He may as well have been talking to the walls for all the reaction he got out of Kip. The captain didn't stop until they reached their room. Kip silently opened the door and all but threw Sergei inside.
Sergei's bag slid to the floor as he turned to face Kip. After slamming the door shut, Kip started to advance, his blue eyes sharp with anger. Sergei's heart hammered with anticipation and arousal. 
He tried to take a step back, only to trip when his feet hit the bag. At the last second, Kip saved him by reaching out and once more grabbing the front of Sergei's shirt. He pulled hard, causing Sergei to slam into his hard chest.
All the air left Sergei's lungs in a whoosh as he felt himself pressed against Kip's body. While the anger in Kip's gaze still concerned Sergei, he couldn't help but notice something else—a certain detail that had his pulse racing with excitement.
"Why, Kip, is that a hockey stick in your pocket or are you just happy to see me?"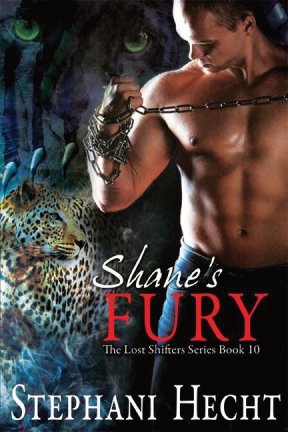 I've been exchanging emails with the EIC of eXtasy Books and I'm excited to announce some updates and changes to my release schedule. You've probably noticed the shiny new cover for my next Lost Shifter book and wondered why I have it so soon. That's because Shane's Fury will be released a month early! So now it's coming out March 15th. I'll also be spacing the Drone Series out a bit since that series only has a few more books left in it. To fill the void I'll be writing books about some of the secondary characters from Blast From The Past and Out Of Balance. This new series will be call Friends to Lovers and the first book will be titled Bylines and Snapshots. In the meantime, I'll be working on the next book from the Archangel Series, but that book will likely be released at eXtasy's sister site, Divine Destinies. Have no fear, though, the stories will still be gritty and have the same twisted sense of humor in them. So here is my current release schedule:
March 1st-Between the Pipes-Blue Line Hockey Series
March 15th-Shane's Fury-Lost Shifter Series
April 1st-Three Alarm Fire-EMS Heat Series
April 15th-Bylines and Snapshots-Friends to Lovers Series
May 1st-Cup Check-Blue line Hockey Series
May 15th-Lost Shifter Book
June 1st-EMS Heat Book
June 15th-Vengeance Paid in Blood-Drone Vampire Series
July 1st-Blue Line Hockey Book
July 15th-Lost Shifter Book
August 1st-EMS Heat Book
August 15th-Friends to Lovers Series
P.S. I received an email titled "From a Reader"  and before I could respond to it, I blew it an lost the message. So if you sent me this email, please don't think I'm ignoring you. I treasure each and every email, letter and message I get from my readers. 
/