Shopping Cart
Your Cart is Empty
There was an error with PayPal
Click here to try again
Thank you for your business!
You should be receiving an order confirmation from Paypal shortly.
Exit Shopping Cart
A little nice and a lot of naughty
The Sensual World of Stephani Hecht
| | |
| --- | --- |
| Posted on October 1, 2011 at 7:13 PM | |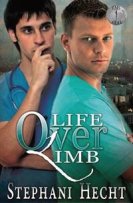 Available now at eXtasy Books!
Blurb: 
After a patient tragically dies while under his care, mobile trauma nurse Tanner withdraws into himself. No longer working out in the field, he's stuck on the midnight shift at St. Anthony's Hospital and with each passing day, he sinks deeper into depression. 
Ricky loves his job as a radiology tech. While he enjoys working with patients, the highlight of his day used to be when Tanner would bring a patient into the hospital. Although the nurse's flirting was sometimes over the top, Ricky found himself growing attracted to the man. So when he learns that Tanner has taken a full-time job at the hospital, Ricky is excited…until he realizes that Tanner is a shell of the man he used to be. Ricky vows that no matter what he has to do, he will bring Tanner out of his depression. Will Ricky be able to make Tanner want to embrace life again? Or will Ricky lose the nurse to his own inner demons?      
Excerpt:   
After the rest of the kids filed out, Ricky started to clean up the mess so he could make them a decent breakfast. 
"Why don't you rest and let me do that?" Tanner offered. 
Ricky knelt down and swiped up a bit of the juice-milk combo that had been missed. He straightened and tossed the paper towels into the trash. "You don't need to bother. I ate on the drive home, remember? I'm feeling much better." 
 In truth, Ricky still felt a bit shaky and tired, but he'd die before he admitted it. He already looked dorky enough as it was without adding more to it. A bit of a jam ended up on his scrub top and he took it off, regretting it immediately when he realized he'd worn a 
Doctor Who
 shirt underneath. It even had a picture of one of 
The Daleks
 on it with the words 
Exterminate!
He glanced down at it, heat covering his cheeks. "Can you not tell Ben about this? He loves to ride me for loving this show."  "Why? I happened to love 
The Doctor
." Tanner started to help clear the remaining mess on the table. 
Relief flooded Ricky and he found himself falling just a little bit harder for the nurse.  
"Ben worries that I don't get out enough," Ricky confessed.  
"Trust me, the club and bar scene are really overrated." Tanner moved closer and ran a finger down Ricky's chest. "Personally, I'd rather stay in and watch TV." 
 "Really? Because if you want, we could come back after we drop off the kids…what I mean is if you're not busy or….hell, you may not even be interested, and if you're not, that's okay. It would suck, but I won't get upset… Not that I really don't want—" 
Tanner cut him off with a soft but intense kiss that demanded Ricky give it his full attention. Something he gladly did and then some. Letting out a short gasp, he brought his hands up and grabbed Tanner's shoulders, wanting to get even closer to the man. 
Ricky parted his lips, allowing Tanner to slide his tongue in his mouth. Desire punched through Ricky at the warm, spicy taste of Tanner. Each stroke of the man's tongue seemed to go directly to Ricky's cock, making him so hard and needy that he let out a couple of whimpers. 
Tanner broke the kiss, but didn't step back. Gazing down, he gently ran the pad of his thumb over Ricky's bottom lip. Feeling a bit bold, Ricky darted his tongue out so he could lick the man's skin.  
"You taste so good," Ricky whispered. 
"Not nearly as good as you do," Tanner whispered back, before going in for another kiss.
Categories: EMS Heat Series, eXtasy Books
/