Shopping Cart
Your Cart is Empty
There was an error with PayPal
Click here to try again
Thank you for your business!
You should be receiving an order confirmation from Paypal shortly.
Exit Shopping Cart
A little nice and a lot of naughty
The Sensual World of Stephani Hecht
| | |
| --- | --- |
| Posted on October 12, 2011 at 5:09 PM | |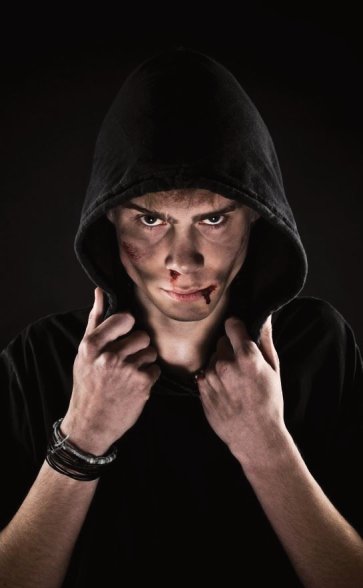 Trevor got out of bed and slowly walked toward Shane.
Even in his wounded state, Shane's body responded to the sensual way his mate moved. It was as all feline and graceful, yet sexy as hell at the same time. 
All Trevor wore were a pair of black sleeping pants, the waistband hanging low on his hips so it revealed his body perfectly. Shane could see it all, the way Trevor's abs were firm, without being too muscular. How his chest was sleek and tan, the skin just begging to be licked and sucked. Most of all, Shane could make out the way the fabric tented over Trevor's groin, showing that Shane wasn't the only one aroused. 
That was one of the things that made Trevor so perfect of a mate. While others shied away when Shane showed up covered in blood and dirty from combat, it turned Trevor on. 
Not that he liked to see Shane hurt. No, Trevor was damn protective of his mate. It's just that he liked the warrior in Shane. Not for the first time, Shane realized just how damn lucky he was to have his Panther. That is until a wave of pain shot through Shane and ripped him back into reality. 
Trevor frowned, his hand going out to touch Shane's chest. "Shit, all this blood is yours. I hadn't realized you were that hurt." 
"I've had worse," Shane protested, even as he began to feel a bit lightheaded. 
"You should have gone into the infirmary and had Jacyn or Doc Featherstone check you out." 
"Nah, they just want to stick me with needles. In fact, I have a sneaky suspicion those two get off on poking sharp objects into people. And yet everybody says I'm the sadistic one."
When Trevor didn't so much as smile, Shane knew his attempt at humor failed. Worse yet, the scent of arousal that had been coming from Trevor dissipated, to be replaced with the sharp bite of anxiety. 
"Then you need to shift," Trevor said, tilting his chin in that stubborn way of his. 
Shane balked. After years of serving under the iron rule of his former guardian, it had been instilled in Shane that shifting was forbidden. Even though Edward was dead and no longer in charge of Shane's life, he still found himself cowing to the man's old rules. Which was just ironic, since Shane was known for not following orders. Of course, his current leader would never think of torturing Shane for punishment as Edward had. Plus, Edward had raised Shane from infancy and had brainwashed Shane and his foster brothers. It was only after they'd come to their current feline coalition that they'd finally had a taste of real freedom. 
That still didn't make certain things any easier. Shane had only shifted a few times since he'd come to the coalition and each time it had only been as a last resort. 
There was yet another reason he didn't want to shift, too. This one even more daunting than Edward. It was because Shane was a Leopard and that breed of shifter was despised and feared by all other felines. 
Sure it was with good reason. Leopards had the well-deserved reputation of being bat-shit crazy and homicidal. The reason the species was almost extinct was because there was so much infighting that they all but decimated their own ranks. 
Shane knew that every time he shifted to his Leopard form, it only served as a reminder of what he was. Not only to others, but to himself as well. Because, as cowardly as it sounded, Shane would have given just about anything to be another breed. Anything would have been better than to be so hated just because of what birth made him. 
As always, Trevor seemed to read his mind. The Panther gently cupped Shane's face. "Shift for me. I love you—all of you." 
An emotion shot through Shane, it was so uncommon and unexpected, he almost didn't recognize it, but yet here it was—fear. 
Trevor gave him a tender smile. "You should know by now that I don't care that you're a Leopard. You're my mate, what's more, you're my hero. And nothing will ever change that. So, please, shift for me. It kills me to see you suffering like this. Not only that, but you're getting blood all over the place and you know how I hate to clean that crap up." 
Shane let out a weak laugh. "Okay, I'll do it. But only for you." 
Taking a couple steps back, Shane closed his eyes and let his Leopard take over. A bright light shimmered over his body as he seamlessly shifted. He only held his animal form long enough for the healing to take effect, before he transformed back to his human side. 
Looking down, he saw that while his shirt was still stained with blood, there didn't seem to be any fresh seepage coming through. Just to be sure, he ripped off his shirt and tossed it to the side. A sigh of relief went through him as he saw all that remained of the scratches were some faint red marks. Raising a hand to his face, he felt that those wounds had healed, too. 
Trevor stepped in close again and pressed their lips together in a kiss so tender it made an ache build up in Shane's chest. How Trevor could still want him, even after seeing the worst of him, still puzzled Shane.  
"Stop thinking so much," Trevor whispered between kisses. 
Shane did just that, bringing his arms up to hold Trevor in a tight embrace. Breaking the kiss, Shane finally gave into one of his biggest urges and buried his nose in the nape of Trevor's neck. Breathing in deep, Shane allowed the scent of his mate to wash away all the lingering ill feelings left over from the night's events. 
When Trevor brought his arms up to return the embrace, Shane felt as if he finally was free from all the terrors of his past, if only for that moment. 
"You are the only reason I feel anything. Before you, I was just a dead shell," Shane said, the words coming out rough because it was still hard for him to share his emotions that way. 
"And I'm never going anywhere. I don't care if you stayed in your Leopard most of the time." Trevor chuckled as he nuzzled Shane's cheek. 
Shane returned the gesture, making it so they equally exchanged scents. That way any shifter who came within five feet of them would know that they were claimed and off limits. 
Trevor finally pulled away, then took Shane's hand. "Come on." 
"Where are you taking me?" Shane asked, even as he began to let Trevor led the way. 
"No offense, but you're still covered in blood and I'm not about to let you get into bed and mess up my sheets. I just got the stains out from the last time you pulled that stunt." 
Shane laughed as they walked into the bathroom. He stood still and let Trevor do all the work, the Panther slowly stripping off the remainder of Shane's clothes. Even going so far as to kneel at Shane's feet and unlace his boots. 
Once Shane was nude, Trevor stripped, then turned on the shower. Taking Shane inside, Trevor tenderly washed every inch of Shane before trailing soft kisses over the nearly healed scratch marks. 
They were both hard with need, but neither one made the encounter sexual. Rather, it was a tender moment of one mate tending to the other's needs. It was something that just a few years ago, Shane never thought would happen to him. Yet, there Trevor was, treating Shane as if he were important and loved. 
Afterward, Trevor turned off the water and carefully dried them off before leading Shane to the bed. They crawled under the covers and got into their usual sleeping position of Shane spooning Trevor in a tight embrace. 
"How come I'm always the little spoon? I'm a couple inches taller than you," Trevor grumbled good-naturedly. 
"Because I can only sleep if I know I have you protected," Shane replied honestly. 
"You do realize I can handle myself in a fight. I may not be some highly trained assassin like you, but I'm one of the coalition's best soldiers." 
"I know, I still haven't gotten over that time you were captured though," Shane admitted. 
Only with Trevor could he lay himself out like that. Trevor let out soft sigh as he placed a tender kiss on Shane's forearm. 
"I'm not going anywhere so go ahead and fall sleep. I promise I will always be here when you get up." 
So many others had broken promises to Shane in the past, but he knew Trevor would never do that to him. Shane closed his eyes and let himself drift off. 
He was so tired and he knew that he had a huge battle ahead of him. Lily was still out there and something told Shane that he would be tangling with the bitch sooner rather than later.   
Categories: eXtasy Books, The Chronicles of Shane, the lost shifter series
/