Shopping Cart
Your Cart is Empty
There was an error with PayPal
Click here to try again
Thank you for your business!
You should be receiving an order confirmation from Paypal shortly.
Exit Shopping Cart
A little nice and a lot of naughty
The Sensual World of Stephani Hecht
| | |
| --- | --- |
| Posted on November 17, 2011 at 9:10 PM | |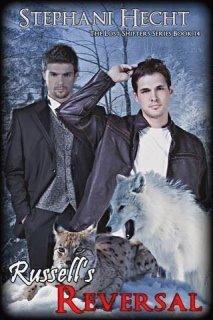 Available now at eXtasy Books! 
Sometimes even the strongest of love can't erase the past. 
Blurb: 


Russell has always liked his men the same way he likes his sex: fast, hard, and without any emotional attachments. As leader of not only a pack of rogue Wolf shifters but also almost every illegal enterprise in the shifter world, Russell knows he's not the type to ever find a mate and settle down. Then Dalton slips into his life, turning it upside down. Not only is Dalton a Lynx shifter, he's also sweet and innocent: everything that Russell never liked in a man…or so he thought. 


But Dalton has a tragic past, which left him scarred inside and out and without a family. Dalton discovers that Russell may have had something to do with that tragedy just as Russell thinks he's finally going to be able to claim his mate. Will Dalton be able to forgive Russell, or will their love be doomed to end before it even begins?


Excerpt:


"Do you have any idea how sexy you are?" Russell asked, his voice husky with need.

The tone of his voice sent fresh shivers of desire through Dalton. "Not really. Most everybody just treats me like their cute, bratty, kid brother."

"You may be small, but you are all grown up."

Oh, wow. While it may not be the best compliment he'd received, it still made Dalton's chest swell with emotion. Running his tongue over his lips, Dalton recalled the time not too long ago when they'd kissed. The passion between them at the time had been so strong that Dalton hadn't been able to think of anything else but the Wolf ever since.

Dalton wondered if they kissed again if it would be so wonderful. Surely, something so earth-shattering couldn't be repeated?

Or could it?

Unable to resist finding out, Dalton stood on tiptoe and pressed his lips to Russell's. Dalton meant for the kiss to be brief, but then Russell let out a growl and took over, one arm snaking around Dalton's waist. With a firm jerk, Dalton found himself pressed tight to the Wolf, their body molding together perfectly. He barely had time to recover enough to keep a grip on his cup.

Desire crashed into Dalton, making his head spin as his knees literally grew weak. A small whimper slipped past him when Russell's tongue thrust inside his mouth. The Wolf left no area untouched, his tongue stroking and caressing in a show of dominance that made Dalton want to roll over and purr in pleasure.

When Russell tore their lips apart, Dalton let out a small growl of protest before he started to rub his cheek against the Wolf's neck. Russell let out a small chuckle as he gently carded his gloved fingers through the front of Dalton's hair.

"Are you trying to mark me with your scent?" Russell asked.

Busted! Dalton paused, mid-rub, his mind racing as he tried to come up with a plausible excuse. The last thing he wanted was to come off as some freak. After all, what sane feline would try to mark somebody as theirs after only meeting them twice?
Categories: eXtasy Books, the lost shifter series
/