Shopping Cart
Your Cart is Empty
There was an error with PayPal
Click here to try again
Thank you for your business!
You should be receiving an order confirmation from Paypal shortly.
Exit Shopping Cart
A little nice and a lot of naughty
The Sensual World of Stephani Hecht
| | |
| --- | --- |
| Posted on February 15, 2012 at 10:44 AM | |
I have been a very naughty author and fell behind. Thus, I forgot to tell you about not one, but two new releases! So without further ado, the are:
Valentines, shmalatines…just give Shane somebody to kill, or at the very least punch around a little bit. 
Shane is known for killing, maiming and causing fear. He sure as hell isn't known for being sappy or sentimental. So when Valentine's Day rolls around, he finds himself at a loss as to what to get Trevor. Shane knows that a simple box of chocolates or roses could do the trick, but not with a mate who's as great as Trevor.When Shane finds himself distracted from his task when Riley is in need of help, Shane stumbles upon the perfect solution in the last place he thought possible. Will Trevor like his gift, or is Shane going to blow what is supposed to be the most romantic day of the year? 
Note: A portion of the author's proceeds from this book will be going to the Ruth Ellis Center, a Detroit based organization aimed at helping homeless LGBT youth.  
Excerpt: 
Shane opened the door, not surprised to see Keegan in his usual place, stretched out on the battered couch in the back of Carson's office. The floor was littered with old files that contained information on other coalitions and packs. Since Keegan had a photographic memory and was the younger brother of the coalition leader, he'd been assigned to be a liaison of sorts. 
Carson let out a bored sigh as he cocked one pierced brow. "Don't tell me. Mitchell wants us to go out on another mission?" 
"No, actually I came here to talk to your mate," Shane admitted. 
Keegan jerked in surprise. Short and thin with speckled brown hair, he was normally laid back and quiet. So it probably came as a surprise to him that the coalition badass was coming to him for anything. 
Narrowing his amber eyes, Keegan said, "If you want some information on one of the other coalitions so you can go in there and kill somebody you need to find, leave. I don't deal in assassination." 
Shane wanted to point out that since he'd joined the coalition, every target he'd taken out had been on Mitchell's orders, but he kept that tidbit to himself. Keegan thought the world of his older brother. Shane didn't want to burst the little guy's bubble by telling him the ugly truth of what leading a coalition sometimes entailed. 
Shifting uncomfortably on his feet, Shane admitted, "No, it's more of a personal question." 
Setting down a file, Keegan sat up straighter. "Sure, what is it?" 
After he shot Carson a look that just dared him to make some wiseass remark, Shane said, "I don't know what to get Trevor for Valentine's Day." 
There was a snort of laughter from Carson before he said, "How about a heart full of chocolates. But this time make sure it's not an actual heart. Nobody wants to get an internal organ as an I-love-you gift." 
Keegan glared at Carson. "Be nice. Shane is coming for help, not for your snarky remarks." 
As always, Carson immediately backed down under the reprimand of his mate. While Keegan may usually be the nicest guy around, he didn't let Carson get away with being too much of an asshole. On the other hand, Keegan was also known to be fiercely protective of Carson. A trait Shane could relate to since he'd do anything for Trevor. 
Keegan tilted his head to the side thoughtfully. "I don't think chocolates would work." 
"Of course not," Shane agreed. Trevor really didn't care for that kind of candy. 
"You could always take him out to the movies," Keegan suggested. 
Shane shook his head. "The last time we went to the theater we got thrown out when Trevor got too frisky with me." That was one of the many things Shane loved about his mate. Once the lights were dimmed, Trevor was horny and ready for action. It didn't matter if they were in the privacy of their bedroom or in a crowded theater full of humans.
"It wasn't that big of a deal. We bailed you guys out of jail right away," Keegan pointed out. 
"Somehow I don't think Trevor wants to spend Valentine's Day in the Flint Jail."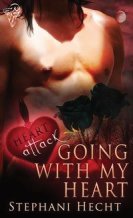 Going With My Heart-Available now at Total-E-Bound 




Sometimes your past can intrude itself into your future…and even kill the chance for your 'happily ever after'. 




Four years ago, Brody thought he'd finally found his happily ever after in his best friend, Dale. All those dreams were shattered, however, when Dale left to join the Air Force, leaving behind a broken hearted Brody. 




Dale knew from the moment he left Brody that he'd made the biggest mistake of his life. Now, he's back and trying to make amends. Not only does he have to deal with his own disapproving father, but Brody isn't ready to forgive or forget. 




Will Dale manage to convince Brody that he's here to stay this time? Or will Dale be the one suffering a broken heart this time? 




Excerpt: 




Dale stared at the slightly weathered, red screen door and took a deep breath. 




Just knock. Come on, it's not that hard. All you have to do is lift your damn fist and hit it against the wood a few times. You've faced enemy gunfire, missile attacks and bunking with guys who didn't take a shower for two weeks, so this should be a piece of cake. 




Try telling that to his hammering heart, trembling hands and sweaty brow, though. Because at that moment he couldn't think of anything more terrifying than facing what may be waiting for him on the other side of that door. 

He took another deep breath...and hesitated again. 




Damn it, he hadn't come all this way just to stare at a door. 




Then he felt it—the prickling sensation that always comes when somebody is watching you. It was an instinct that all people were born with, but his four years in the military had taught him to hone that skill into a fine art. So he had no doubt—he was being stalked...but by whom? 




He glanced at the curtains of the window that looked out over the porch. Maybe the home's occupant already realised he was present and they were getting ready for battle. His unease grew when he noted the curtains remained motionless and tightly drawn together—the thick brown cloth obscuring any chance of him seeing inside, let alone allowing anybody to peek outside. 




So that meant his stalker was somewhere else. He scanned up and down the street—the very one he'd grown up on. While each house brought back some memory from the past, he didn't spot a single person. Nor did he see anybody looking out of the various windows. Just as he was about to give up and leave, a high pitched giggle from the other yard drew his attention. 




Turning his head, he groaned as he found himself face-to-face with Ayla. When Dale had lived there four years ago, she'd been the neighbourhood brat and it looked as if little had changed. Sure, she now wore her brown hair in a fashionable pixie cut, had grown several inches taller and had given up her overalls for a pair of tight jeans, but the ever-present smirk remained on her lips. 




"I knew you would be back," she declared, crossing her arms over her thin chest. Dale cocked a brow. 




"You did?" 




"Of course. There's no way you can resist Brady. You've always had the hots for him." 




It took Dale aback that even somebody as young as Ayla had figured out his true feelings for his best friend. Had he really been that obvious? 




As if reading his mind, she rolled her big, brown eyes. "Please. You guys practically drooled over each other." 




"So, does that mean everybody knows?" Dale ventured. 




He wondered if Brady had faced prejudice and hatred for their obvious attraction and a pang of guilt hit Dale over his friend having to face that alone. 




"Yes, but most people don't care. They like Brady too much to let something like that make them think less of him. In fact, he's very popular..." She drew out the last word for emphasis, a malicious gleam in her gaze. 




A bitter bite of jealousy stung Dale, even though he knew he had no right to feel it. "How popular?" 




"What do you care? You took off on him." 




Since when had Ayla become Brody's advocate? Next, she'd be coming up and kicking Dale in the shins for daring to hurt him. 




"I didn't have a choice," Dale replied through clenched teeth. Now it was she who cocked a brow and damned if she didn't do a better job of it. 




"We all have choices in life, Dale. Some of us are just too much of a chicken to make them."


Categories: eXtasy Books, the lost shifter series, Total-E-Boud

0

/